KIRX brings you Kirksville Tiger Sports. Tune in to KIRX for Tiger Football and Boys and Girls Basketball. Follow the Tigers on your home for the Tigers! KIRX 1450 AM and 99.7 FM.
KIRX Sportscasts:
6:20am (mon-fri)   

7:18am (mon-sat)   

8:13am (sat)
Kirksville High School Basketball 2020-2021 Schedule (schedule may change)
TBA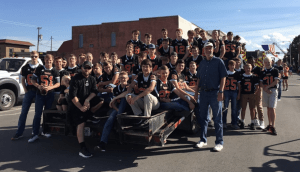 Sports Director Steve Eklof with the KHS football team. Homecoming 2017.
Go Tigers!